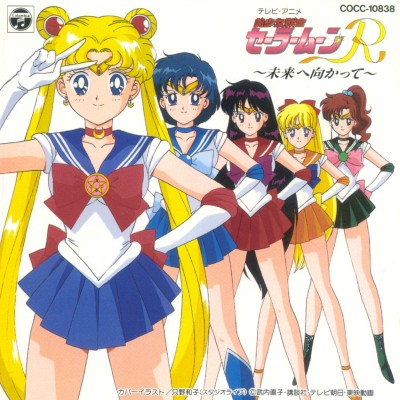 This album has been issued three times:
1st release: 1993.06.01. Columbia COCC-10838. 2800 yen. Out of print.
2nd release: 2001.06.01. Columbia COCC-31391. 2300 yen. Out of print.
3rd release: 2010.03.17 (HQCD). Columbia COCX-36150. 2500 yen. Out of print.
This character song collection from the second series features some of the most popular songs from the series, with a number of these image songs appearing in character-centric episodes of Sailor Moon R.
ISHIDA Yoko is a Japanese singer who has performed theme songs for numerous anime including Prétear, A Little Snow Fairy Sugar Petite Princess Yucie, Ai Yori Aoshi, the Ah! My Goddess TV series and Strike Witches, in addition to the Para Para Max CD series of anime covers. She made her debut with the Sailor Moon R ending theme Otome no Policy. In 2010 Ishida release a compilation album of her anime songs called Another Sky.
Track Title
Performer/Lyrics
1. 好きと言って
Suki to Itte ("Say You Love Me")

Plays in the background of numerous SMR episodes

ISHIDA Yoko
2. I am セーラームーン
I am Sailor Moon
Usagi
3. 同じ涙を分け合って
Onaji Namida wo Wakeatte("Sharing the Same Tears")

Appears in Episode 62 when Ami is leaving to study abroad. Replaced with "Only a Memory Away" in the English adaptation.

Ami
4. 聖・炎・愛 〜Fire Soul Love〜
Sei·Hi·Ai ~Fire Soul Love~ ("Holy/Flame/Love ~Fire Soul Love~")
Rei
5. 乙女のポリシー
Otome no Policy ("Maiden's Policy") [Sailor Moon R End Theme]
ISHIDA Yoko
6. 抱きしめていたい
Dakishimete Itai ("I Want to Hold You")
Mamoru
7. STARLIGHT にキスして
Starlight ni Kiss Shite ("Kiss the Starlight")
Makoto
8. ルート・ヴィーナス
Route Venus

Appears in episodes 154 and 192

Minako
9. 愛の戦士
Ai no Senshi ("Soldiers of Love")

Appears in episodes 68 and 102. Replaced with "Tear Our Hearts in Two" in English.

ISHIDA Yoko
10. ムーンライト伝説
Moonlight Densetsu ("Moonlight Legend")
DALI