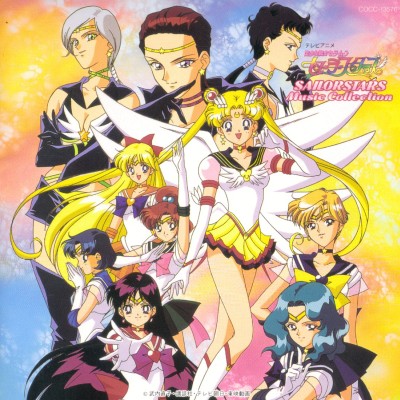 1st release: 1996.07.20. Columbia COCC-13576. 2800 yen.
HQ-CD re-release: 2010.03.17. Columbia COCX-36156. 2500 yen.
This soundtrack features the background music from the Nehellenia arc of Sailor Stars.
Track Title
1. エターナルセーラームーン
Eternal Sailor Moon
2. セーラースターソング
Sailor Star Song [Lyrics]
3. サブタイトル
Subtitle
4. 5人は高校生
5-nin wa koukousei ("5 High School Students")
5. ネヘレニア復活
Nehellenia Fukkatsu ("Nehellenia Resurrection")
6. ほたるの予言
Hotaru no Kanegoto ("Hotaru's Prediction")
7. アイキャッチ
Eyecatch
8. ミラーパレドリー
Mirror Paredri
9. とらわれのセーラー戦士
Toraware no Sailor Senshi ("Captured Sailor Soldiers")
10. プリンセスのために…
Princess no tameni… ("For the sake of the Princess…")
11. エターナルの愛
Eternal no Ai ("Eternal Love")
12. スリーライツ
Three Lights
13. シャドウギャラクティカ
Shadow Galactica
14. ムーンエターナルメイクアップ!
Moon Eternal Make Up!
15. セーラースターライツ出現
Sailor Starlights Shutsugen ("Sailor Starlights Arrival")
16. 風も空もきっと…
Kaze mo Sora mo Kitto ("The Wind, the Sky, Surely") [Lyrics]
17. 月の光は愛のメッセージ
Tsukino Hikari wa Ai no Message ("Moonlight Message of Love")