New CD: Sailor Moon Crystal Original Soundtrack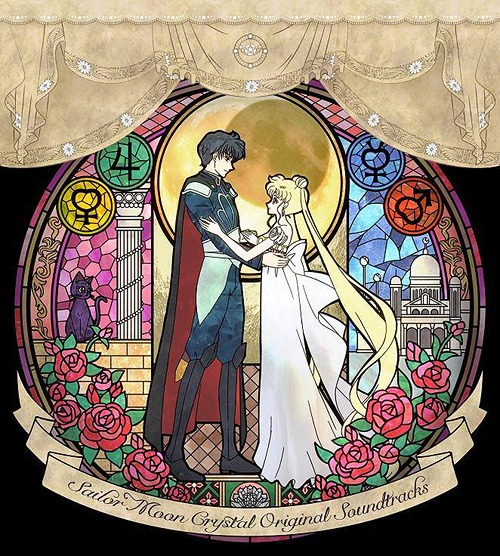 Toei Animation has released a 2-CD original soundtrack for Sailor Moon Crystal with 54 tracks featuring the music for both the Dark Kingdom and the currently-airing Chibi Usa/Black Moon Clan arcs. The album includes the TV-sized versions of the opening and ending themes "Moon Pride!" and "Moon Rainbow" (or "Moonbow"), as well as battle music, transformation and character themes.
The album can be purchased at CD Japan and on iTunes. You can listen to samples of the tracks in the promo video below.
Composer: Yasuharu Takanashi
Catalog No. KICA-3226
JAN/ISBN 4988003456399
Number of Discs: 2
Label/Distributor: King Records
DISC 1
Prelude: The Legend

序章:伝説

1

TSUKI NO DENSETSU

月の伝説

Chapter I: Make Up!

第I章:メイクアップ!

2

MOON PRISM POWER MAKE UP!

ムーン・プリズム・パワー・メイクアップ!

3

STAR POWER MAKE UP!

スター・パワー・メイクアップ!

4

TSUKI NI KAWATTE OSHIOKI YO! ("On Behalf of the Moon, I'll Punish You!")

月にかわっておしおきよ!

Opening Theme

オープニングテーマ

5

MOON PRIDE / MOMOIRO CLOVER Z

MOON PRIDE (TVサイズ) / ももいろクローバーZ

Chapter II: Tuxedo Romance

第II章:タキシード・ロマンス

6

TUXEDO KAMEN ("Tuxedo Mask"

タキシード仮面

7

MAMORU NO THEME ("Mamoru's Theme")

衛のテーマ

Chapter III: Sign of Phantom

第III章:妖気

8

YAMI NI HISOMU KAGE ("Shadows lurking in the darkness")

闇にひそむ影

9

KAII NO HAJIMARI ("Beginning of strangeness")

怪異の始まり

Chapter IV: Pretty Guardians

第IV章:美しき戦士たち

10

SAILOR MOON NO THEME ("Sailor Moon's Theme")

セーラームーンのテーマ

11

SAILOR MERCURY NO THEME ("Sailor Mercury's Theme")

セーラーマーキュリーのテーマ

12

SAILOR MARS NO THEME ("Sailor Mars' Theme")

セーラーマーズのテーマ

13

SAILOR JUPITER NO THEME ("Sailor Jupiter's Theme")

セーラージュピターのテーマ

14

SAILOR VENUS NO THEME ("Sailor Venus' Theme")

セーラーヴィーナスのテーマ

Chapter V: Girls' Holiday *

第V章:セーラー戦士の休日

[* "Girls' Holiday" appears in English but the Japanese translates to "Sailor Senshi's Holiday"]

15

AKARUI HIZASHI NO NAKA DE ("In bright sunlight")

明るい陽射しの中で

16

MEZAME HA MADA OTOZURE ZU ("Awakening has not happened yet")

目ざめはまだ訪れず

17

OCCHOKOCHOI DA KEDO II JA NAI ("I'm clumsy although it's not good")

おっちょこちょいだけどいいじゃない

18

MAINICHI GA ONE DARAN DO ("Everyday Wonderland")

毎日がワンダーランド

Chapter VI: The Ordeal of Love

第VI章:愛の試練

19

YAMI NO KAMEN ("Mask of Darkness")

闇の仮面

20

KATTOU SURU KOKORO ("Conflicted Heart")

葛藤する心

21

KANASHIMI NO FUKAKI FUCHI ("Deep Abyss of Sorrow")

悲しみの深き淵

22

AI HA FUTATABI ("Love Again")

愛はふたたび

Chapter VII: The Battle

第VII章:戦い

23

SHOUGEKI ("Shock")

衝撃

24

YAMI NO SHUUGEKI ("Attack of Darkness")

闇の襲撃

25

MOON HEALING ESCALATION!

ムーン・ヒーリング・エスカレーション!

26

AI TO SEIGI NO SAILOR SENSHI ("Sailor Senshi of Love and Justice")

愛と正義のセーラー戦士

Chapter VIII: Friendship

第VIII章:友情

27

AI SURU MONO TO NO KIZUNA ("Ties with those you love")

愛するものとの絆

28

KAKEGAE NO NAI YUUJOU ("Irreplaceable Friendship")

かけがえのない友情

29

HITOTOKI NO HEIAN ("Moments of Peace")

ひとときの平安

Intermission

インターミッション

30

SAILOR V GAME

セーラーVゲーム
DISC 2
Chapter IX: Pretty Girls **

第IX章:素顔のセーラー戦士たち

[** "Pretty Girls" appears in English but the Japanese translates to "True Face of Sailor Senshi"]

1

USAGI NO THEME ("Usagi's Theme")

うさぎのテーマ

2

AMI NO THEME ("Ami's Theme")

亜美のテーマ

3

REI NO THEME ("Rei's Theme")

レイのテーマ

4

MAKOTO NO THEME ("Makoto's Theme")

まことのテーマ

5

MINAKO NO THEME ("Minako's Theme")

美奈子のテーマ

Chapter X: Little Moon

第X章:小さな来訪者

6

CHIBI USA NO THEME ("Chibi Usa's Theme")

ちびうさのテーマ

7

MABUSHII SEKAI ("Dazzling World")

まぶしい世界

8

YUMEMIGOKOCHI NO WALTZ ("Dreamy Waltz")

夢見心地のワルツ

Chapter XI: The Return of Phantom

第XI章:妖魔の復活

9

YAMI HA TO KOSHIE YORI ("Darkness Forever")

闇はとこしえより

10

FUAN TO SHOUSOU ("Anxiety and Impatience")

不安と焦燥

11

HISOU NA TATAKAI ("Tragic Battle")

悲壮な戦い

Chapter XII: Sad Black Lady

第XII章:哀しき黒い乙女

12

BLACK LADY

ブラック・レディ

13

SHIZUKA NARU KANASHIMI ("Quiet Sorrow")

静かなる哀しみ

14

TOKIHANATA RE TA IKARI ("Unleashed Anger")

解き放たれた怒り

Chapter XIII: Through the Gate of Time

第XIII章:時の扉を開けて

15

TOKI NO TOBIRA ("Door of Time")

時の扉

16

SAILOR CHIBI MOON NO THEME ("Chibi Moon's Theme")

セーラーちびムーンのテーマ

Chapter XIV: Determination

第XIV章:決意

17

HAKYOKU NO ZENCHOU ("Omen of Catastrophe")

破局の前兆

18

TSUKI NI INORI WO ("Prayer to the Moon")

月に祈りを

19

KETSUI WO MUNE NI ("Determined Heart")

決意を胸に

Chapter XV: The Final Battle

第XV章:決戦

20

SAIGO NO TATAKAI ("Last Battle")

最後の戦い

Chapter XVI: The Miracle of Love

第XVI章:愛の奇跡

21

AI NO THEME ("Love Theme")

愛のテーマ

Finale: To the Future

終章:未来へ

22

SAWAYAKA NA KAZE NO YOUNI ("Like a Refreshing Breeze")

さわやかな風のように

23

ASHITA NI TSUZUKU MONOGATARI ("A Story that Continues into Tomorrow")

明日に続く物語

Ending Theme

エンディングテーマ

24

TSUKI NIJI ("Moonbow") / MOMOIRO CLOVER Z

月虹 (TVサイズ) / ももいろクローバーZ
via CD Japan, Crunchyroll, natalie.mu