New CD: Sailor Moon Crystal Character Song Collection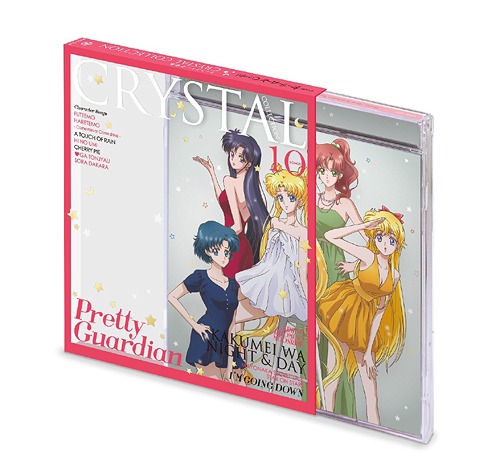 The Sailormoon Official Channel has released a promo video for the first character song album for the anime, which is set for release on April 29, 2015. First press will include a magazine-style sleevecase and CDJapan customers will also receive an exclusive postcard.
The promo video features the track "Revolution Night & Day", a song performed by all 5 senshi. I love character albums, so I preordered this one today from CDJapan along with the Sailor Moon Crystal OST.
The album features songs by all five senshi, Mamoru…and Jadeite (?!), so it looks like this album is intended to represent the Dark Kingdom arc. Hopefully we'll see a second album featuring songs from Luna, Artemis, Chibi Usa and Pluto, and one of the Black Moon sisters.
Tracklisting
1

FUTTEMO HARETEMO ("Come Rain or Come Shine") / TSUKINO USAGI (CV: MITSUISHI KOTONO)

降っても 晴れても -come rain or come shine- / 月野うさぎ(CV:三石琴乃)

2

A TOUCH OF RAIN / MIZUNO AMI (CV: KANEMOTO HISAKO)

a touch of rain / 水野亜美(CV:金元寿子)

3

HI NO UMI ("Sea of Fire")/ HINO REI (CV: SATOU RINA)

火の海 / 火野レイ(CV:佐藤利奈)

4

CHERRY PIE / KINO MAKOTO(CV:KOSHIMIZU AMI)

cherry pie / 木野まこと(CV:小清水亜美)

5

(HEART) GA TONJYAU SORA DAKARA ("Because my heart is empty, flying will do") / AINO MINAKO (CV: ITO SHIZUKA)

♡が飛んじゃう空だから / 愛野美奈子(CV:伊藤静)

6

KIMI NO HITOMI NO MOONRISE ("Moonrise of Your Eyes") / CHIBA MAMORU (CV: NOJIMA KENJI)

君の瞳のMoonrise / 地場衛(CV:野島健児)

7

I'M GOING DOWN / JADEITE (CV: KISHIO DAISUKE), NEPHRITE (CV: TORIUMI KOSUKE), ZOISITE (CV: MATSUKAZE MASAYA), KUNZITE (CV: TAKEMOTO)

I'M GOING DOWN / ジェダイト(CV:岸尾だいすけ) & ネフライト (CV: 鳥海浩輔) & ゾイサイト (CV: 松風雅也) & クンツァイト (CV: 竹本英史)

8

MAYONAKA SECRET TALK ("Midnight Secret Talk") / MIZUNO AMI (CV:KANEMOTO HISAKO) & KINO MAKOTO (CV:KOSHIMIZU AMI)

真夜中secret talk / 水野亜美 (CV: 金元寿子) & 木野まこと (CV:小清水亜美)

9

STAR ON STARS / HINO REI (CV: SATOU RINA) & AINO MINAKO (CV: ITO SHIZUKA)

Star on Stars / 火野レイ(CV:佐藤利奈) & 愛野美奈子 (CV: 伊藤静)

10

KAKUMEI WA NIGHT & DAY ("Revolution Night & Day") / SAILOR MOON, SAILOR MERCURY, SAILOR MARS, SAILOR JUPITER, SAILOR VENUS

革命はナイト&デイ / セーラームーン & セーラーマーキュ リー & セーラーマーズ & セーラージュピター & セーラーヴィーナス