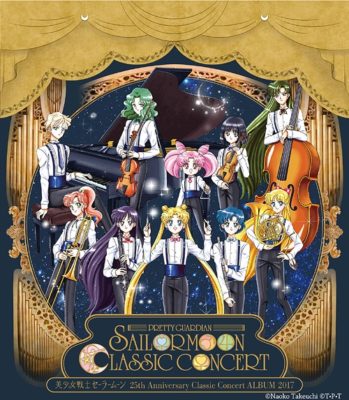 Available at YesAsia and iTunes
Released by King Records (KICA-3269) on Dec 6, 2017
Two-disc album release for the orchestral concert celebrating the 25th anniversary of Sailor Moon held on August 3, 2017. The concert was performed by the Tokyo Philharmonic Orchestra and conducted by YOSHIDA Makoto. A 4-minute compilation of highlights from the concert is available on the Sailormoon Official YouTube channel.
DISC 1
Tracks
1
AVANT-TITLE BGM OPENING NARRATION
アバンタイトルBGM オープニングナレーション / 吉田誠
2
MOONLIGHT DENSETSU
ムーンライト伝説 <テレビアニメ『美少女戦士セーラームーン』> / 吉田誠
3
AI NO SENSHI
愛の戦士 <テレビアニメ『美少女戦士セーラームーンR』> / 吉田誠
4
HEART MOVING
HEART MOVING <テレビアニメ『美少女戦士セーラームーン』> / 吉田誠
5
PRINCESS MOON
プリンセス・ムーン <テレビアニメ『美少女戦士セーラームーン』> / 吉田誠
6
WATASHI-TACHI NI NARITAKUTE
私たちになりたくて <テレビアニメ『美少女戦士セーラームーンSuperS』> / 吉田誠
7
OTOME NO POLICY
乙女のポリシー <テレビアニメ『美少女戦士セーラームーンR』> / 吉田誠
8
'RASHIKU' IKIMASHO
"らしく"いきましょ <テレビアニメ『美少女戦士セーラームーンSuperS』> / 吉田誠
9
URANUS & NEPTUNE MEDLEY
ウラヌス&ネプチューン メドレー <テレビアニメ『美少女戦士セーラームーンS』> / 吉田誠
10
ETERNAL ETERNITY
eternal eternity <テレビアニメ『美少女戦士セーラームーンCrystal』> / 吉田誠
11
EYECATCH BGM
アイキャッチBGM / 吉田誠
DISC 2
1
MOON PRISM POWER MAKE UP!
ムーン・プリズム・パワー・メイクアップ! <テレビアニメ『美少女戦士セーラームーン』> / 吉田誠
2
MOON REVENGE
Moon Revenge <劇場版『美少女戦士セーラームーンR』> / 吉田誠
3
TUXEDO MIRAGE
タキシード・ミラージュ <テレビアニメ『美少女戦士セーラームーンS』> / 吉田誠
4
LA SOLDIER <Musical>
ラ・ソウルジャー <ミュージカル『美少女戦士セーラームーン』バンダイミュージカルオフィス版> / 吉田誠
5
THREE LIGHTS MEDLEY
スリーライツ メドレー <テレビアニメ『美少女戦士セーラームーン セーラースターズ』> / 吉田誠
6
AI NO STARSHINE <Musical>
愛のStarshine <ミュージカル『美少女戦士セーラームーン』ネルケプランニング版> / 吉田誠
7
MOON PRIDE
MOON PRIDE <テレビアニメ『美少女戦士セーラームーンCrystal』> / 吉田誠
8
TSUKINIJI ("Moon Rainbow")
月虹 <テレビアニメ『美少女戦士セーラームーンCrystal』> / 吉田誠
9
NEW MOON NI KOI SHITE
ニュームーンに恋して <テレビアニメ『美少女戦士セーラームーンCrystal』> / 吉田誠
10
SAILOR STAR SONG
セーラースターソング <テレビアニメ『美少女戦士セーラームーン セーラースターズ』> (Enc) / 吉田誠