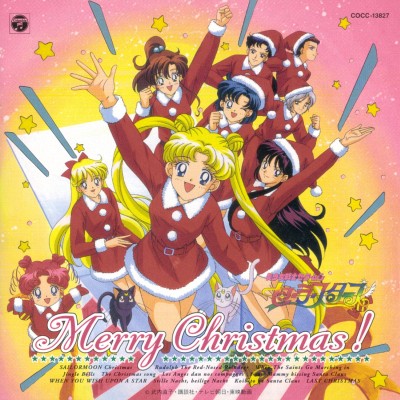 Columbia COCC-13827
Released 1996.11.01 (out of print)
The second Sailor Moon album, released during the Sailor Stars series, features popular Japanese Christmas songs performed by our favorite carolers, the sailor senshi. You haven't lived until you've heard Usagi's adorable version of When the Saints Go Marching In.
Five of these tracks were previously released on Christmas For You, but these tracks feature newly recorded banter between the girls.
Track List
1. セーラームーン・クリスマス
Sailor Moon Christmas – performed by Peach Hips
2. 赤鼻のトナカイ
Aka Hana no Tonakai ("Red Nose Reindeer") [Rudolph the Red-Nosed Reindeer] – performed by Peach Hips
3. 聖者が町にやってくる
Seija ga machi ni yatte kuru ("Saints are Coming to Town") [When the Saints Go Marching In]
– performed by Tsukino Usagi
4. ジングルベル
Jingle Bells – performed by Mizuno Ami
5. クリスマスの歌
Christmas no Uta ("The Christmas Song") – performed by Kino Makoto
6. あら野のはてに
Arano no hate ni [Angels We Have Heard on High] – performed by Kino Makoto
7. ママがサンタにキッスした
Mama ga Santa ni kissu shita ("Mama Kissing Santa Claus") [I Saw Mommy Kissing Santa Claus] – performed by Aino Minako
8. 星に願いを
Hoshi ni negai wo ("Wish Upon A Star") [When You Wish Upon A Star] – performed by Hino Rei
9. きよしこの夜
Kiyoshiko no yoru ("Silent Night") – performed by Peach Hips
10. 恋人がサンタクロース
Koibito ga Santa Claus ("A Sweetheart is Santa Claus") – performed by Aino Minako
11. ラスト・クリスマス
Last Christmas – performed by Hino Rei