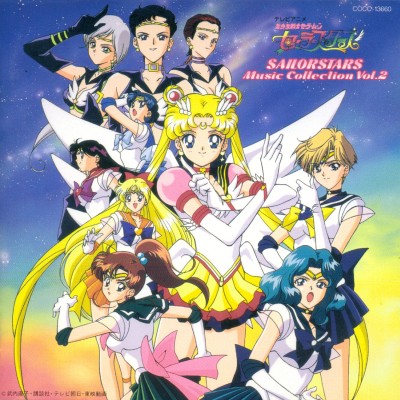 1st release: 1996.08.21. Columbia COCC-13660. 2800 yen.
2nd release: 2010.03.17 (HQCD). Columbia COCX-36157. 2500 yen.
Purchase the HQCD re-release at CDJapan
This soundtrack features BGM from the Three Lights portion of Sailor Stars. The track Kyuukyoku no Ai ("Ultimate Love") is borrowed from Johann Sebastian Bach's "Prelude in C Major".
Track Title
1. 衛との別れ、そして…
Mamoru tono wakare soshite ("Parting with Mamoru, and then")
2. ボクたちの歌をきいて
Bokutachi no Uta wo Kite ("Listen to Our Song")
3. あの方はどこに…
Ano kata ha Dokoni… ("Where is that person…?") [Princess Kakyuu's theme]
4. 星野、大気、夜天
Seiya, Taiki, Yaten (names translate to "Star Field, Atmosphere, Night Sky")
5. ギターソロ・コレクション
Guitar Solo Collection
6. 学園のアイドル
Gakuen no Idol ("School Idol")
7. 美奈子の野望
Minako no Yabou ("Minako's Ambition")
8. 銀河テレビでの策略
Ginga Telebi de no Sakuryaku ("Strategy on Galaxy TV")
9. スターシードをいただくわ
Starseed o Itadakuwa ("I'll take the Star Seed")
10. 襲い来るファージ
Osoikuru Phage ("Phage comes attacking") [Anima-mates and Galaxia Attack BGM]
11. スターパワーメイクアップ!
Star Power Make Up!
12. 華麗なるエターナルセーラームーン
Kareinaru Eternal Sailor Moon ("Magnificent Eternal Sailor Moon")
13. 究極の悪
Kyuukyoku no Aku ("Ultimate Evil") [Galaxia theme music]
14. 決意
Ketsui ("Determination")
15. 究極の愛
Kyuukyoku no Ai ("Ultimate Love")
16. 平和
Heiwa ("Peace")
17. 今日からまたフツーの高校生
Kyokara Mata Hutsu no Koukousei ("After Today, Normal High School Students Again")
BONUS TRACKS
18. スターパワーメイクアップ音楽 ~コーラスなし~
Star Power Make-Up! (w/o Chorus)
19. ムーンエターナルメイクアップ音楽 ~コーラスなし~
Moon Eternal Make-Up! (w/o Chorus) [short version of henshin]
20. エターナルセーラームーン・アクション音楽 ~コーラスなし~
Eternal Sailor Moon Action (w/o Chorus) [full length henshin]
21. 予告編音楽~15秒ヴァージョン~
Yokokuhen Ongaku ~15 Jugo Byou Bajon~ ("Preview Music ~15 Second Version~")