Catalog # Columbia COCC-14459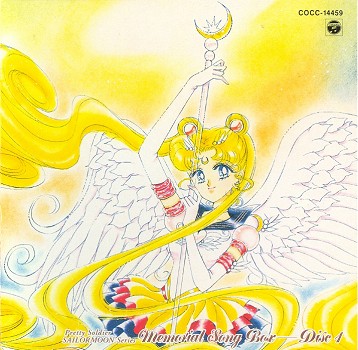 Disc 1 includes all the Sailor Moon TV series opening and ending theme songs and karaoke versions (the karaoke of Moonlight Densetsu by Moon Lips is on Memorial Music Box Disc 9). Note: the first version of Kaze mo Sora mo Kitto was never released on CD. You can download a TV rip here.
Following the release of the Memorial Song Box, a theme song collection called Sailor Moon: Super Best was published, which can be purchased at CD Japan.
Track Title
Performer/Lyrics
1. 「ムーンライト伝説(DALI)」TVサイズ
Moonlight Densetsu (DALI) TV Size ("Moonlight Legend")
DALI
2. Heart Moving
TAKAMATSU Misae
3. プリンセス・ムーン
Princess Moon
HASHIMOTO Ushio
4. 乙女のポリシー
Otome no Policy ("Maiden's Policy")
ISHIDA Yoko
5. ムーンライト伝説
Moonlight Densetsu ("Moonlight Legend")
"Moon Lips" (main cast)
6. タキシード・ミラージュ
Tuxedo Mirage
"Peach Hips" (main cast)
7. 私たちになりたくて
Watashi-tachi ni Naritakute ("Wanting to Be Together With You")
FUJITANI Miwako
8. "らしく"いきましょ
"Rashiku" Ikimasho ("I'll go with my looks")
"Meu"
9. セーラースターソング
Sailor Star Song
HANAZAWA Kae
10. 風も空もきっと…
Kaze mo Sora mo Kitto… ("The Wind, the Sky, Surely…")
MIZUKI Arisa
11. Moonlight Densetsu (Original Karaoke)
12. Heart Moving (Original Karaoke)
13. Princess Moon (Original Karaoke)
14. Otome no Policy (Original Karaoke)
15. Tuxedo Mirage (Original Karaoke)
16. Watashi-tachi ni Naritakute (Original Karaoke)
17. "Rashiku" Ikimasho (Original Karaoke)
18. Sailor Star Song (Original Karaoke)
19. Kaze mo Sora mo Kitto… (Original Karaoke)