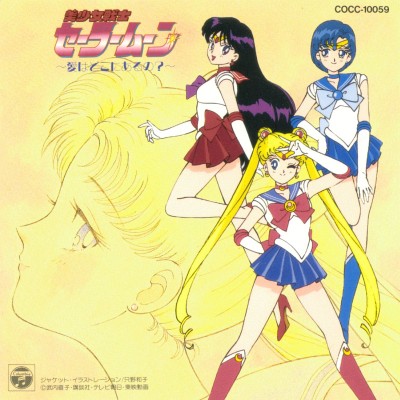 Out of print
Columbia COCC-10059. Released 1992.07.01. 2800 yen.
Columbia COCX-36148. Released 2010.03.17. 2500 yen.
Character song collection featuring Maboroshi no Ginzuishou – Silver Crystal ("My Only Love" in the English adaptation) from Sailor Moon's transformation into Princess Serenity, Anata no Sei Janai ("Rainy Day Man" in English), and a cover of the ending theme Princess Moon performed by Apple Pie (main cast). Six tracks were written by Takeuchi Naoko.
Tracks 2-9 include a dialogue portion that forms an ongoing conversation between Luna and Usagi. A translation of the conversation is available here.
Track Title
Performer/Lyrics
1. ムーンライト伝説
Moonlight Densetsu ("Moonlight Legend")
DALI
2. 合コトバはムーン・プリズム・パワー・メイクアップ!
Ai Kotoba ha Moon Prism Power Make Up!
(The Password is Moon Prism Power Make-Up!)
Usagi
3. プリンセス・ムーン
Princess Moon
Apple Pie
4. ほっとけないよ
Hottokenai yo ("Can't Leave You Alone!")
Rei & Ami
5. 愛のエナジーを奪え
Ai no Energy wo Ubae ("Steal the Energy of Love")
Apple Pie
6. タキシード・ナイト
Tuxedo Night
Apple Pie
7. ルナ!
Luna!
Apple Pie
8. 月にかわっておしおきよ
Tsuki ni Kawatte Oshioki yo ("In the Name of the Moon, We'll Punish You!")
Usagi, Ami, Rei
9. 幻の銀水晶
Maboroshi no Ginzuishou ~ Silver Crystal ("Illusionary Silver Crystal ~ Silver Crystal")
Apple Pie
10. Heart Moving
TAKAMATSU Misae