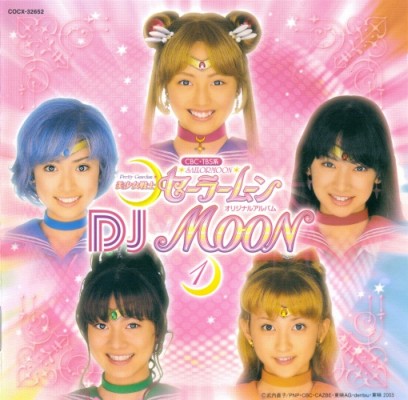 COCC-32652, 2800 yen
Released 2004.02.18. Out of print.
DJ Moon (full title: "Pretty Guardian Sailor Moon" Radio Special Series "DJ Moon") was a promotional radio program which aired on several radio networks in Japan during the original TV run of the live-action series. The five actresses who played the Inner Senshi in the series hosted the show, which also included vocal drama segments, and promoted upcoming episodes of the television series. The CD release of the program included the "DJ" drama tracks as well as background music and image songs from the show.
An original soundtrack for the series was solicited (twice) before being cancelled. Instead the series' BGM was released over the three "DJ Moon" CDs (mostly on the first CD). More BGM was released on the Moonlight Real Girl CD Box.
Visit Sailor Dream for scans and full description.
Track Title
Performer/Lyrics
DJ 1
うさぎのたのしい一日
Usagi no Tanoshii Ichinichi ("Usagi's Fun Day")
DJ 2
キラリ☆セーラードリーム!
Kirari☆Sailor Dream! ("Sparkle☆Sailor Dream!")
SAE
DJ 3
のんびりうさぎの一日
Nonbiri Usagi no Ichinichi ("Usagi's Leisurely Day")
お買い物に大忙し
Okaimono ni Ooisogashi ("Busy Shopping")
心細い一人のお留守番
Kokorobosoi Hitori no Orusuban ("Caretaker of the Lonely Person")
私はお姫様
Watashi ha Ohimesama ("I am the Princess")
オーバーレインボー♥ツアー
Over Rainbow ♥ Tour
SAWAI Miyuu (Usagi)
DJ 4
悲劇の主人公
Higeki no Shujinkou ("Heroine of the Tragedy")
女の子は、時々淋しいの
Onnanoko ha, Tokidoki Sabishiino ("The Girl is Occasionally Lonely")
DJ 5
おじゃべりルナ
Oshaberi Luna ("Chatty Luna")
不思議な魔法のアイテム
Fushigi na Mahou no Item ("Strange Magic Item")
DJ 6
セーラームーンにメイクアップ
Sailor Moon ni Make Up ("Make Up to Sailor Moon")
セーラーマーキュリーにメイクアップ
Sailor Mercury ni Make Up ("Make Up to Sailor Mercury")
セーラージュピターにメイクアップ
Sailor Jupiter ni Make Up ("Make Up to Sailor Jupiter")
セーラーマーズにメイクアップ
Sailor Mars ni Make Up ("Make Up to Sailor Mars") *
DJ 7
憧れのタキシード仮面
Akogare no Tuxedo Kamen ("Tuxedo Mask's Longing")
ウワー妖魔だー
Uwaa Youma Daa ("Eek! That's a Monster!")
DJ 8
肩越しに金星
Katagoshi ni Kinsei ("Venus Over My Shoulder")
KOMATSU Ayaka (Minako)
セーラーV
Sailor V
DJ 9
ダーク・キングダム
Dark Kingdom
クイン・ベリル様
Queen Beryl-sama
ダークキングダム四天王
Dark Kingdom Shitennou ("Dark Kingdom Four Generals")
セーラー戦士の戦い
Sailor Senshi no Tatakai ("Battle of the Sailor Soldiers")
地場衛ことタキシード仮面
Chibi Mamoru koto Tuxedo Kamen ("Chiba Mamoru a.k.a. Tuxedo Mask")
さて、次回は
Sate, zikai ha ("Well, Next Time")
DJ 10
C'est la vie 〜私のなかの恋する部分
C'est La Vie ~ Watashi no Naka no Koisuru Bubun ("That's Life ~ The Loving Part Inside Me")
KOMATSU Ayaka (Minako)
* Sailor Venus ni Make Up is included on DJ Moon 2, track 10, cue 1.