5040 yen
Released 2004.09.22. Out of print.
This CD box set for PGSM comes with a 40 page booklet and contains 3 albums:
Rare Track Collection – BGM not previously released on CD, plus a video recording of "Friend" from the Kirari Super Live event.
Special Radio Program DJ Moon – featuring a mix of drama tracks and shortened versions of songs from the series.
Disc 1: Original Soundtrack Rare Track Collection
Background Music produced by Oshima Michiru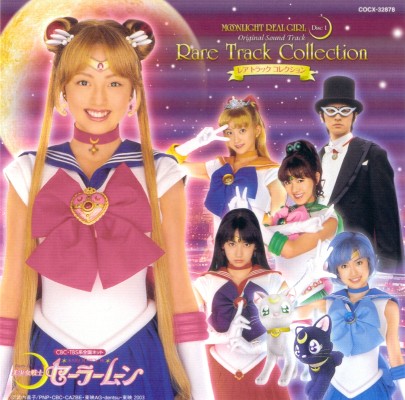 Track Title
Translation
1. 謎のアラブの占い師
Nazo no Arabu no Uranaishi
"The Fortuneteller's Arab Riddle"
2. 大人の優雅な一日
Otona no Yuuga na Ichinichi
"Elegant Day of Adults"
3. だんだん考えをまとめて行く
Dandan Kangae o Matomete Iku
"Gradually Go Collect Ideas"
4. スポーツの若大将
Sports no Waka Taishou
"The Young General of Sports"
5. お化けだゾー
Obake Dazoo
"It's a Monster"
6. ズンズン進む悪の行進
Zunzun Susumu Aku no Koushin
"The March of Evil Rapidly Advances"
7. キラキラピカピカ
Kirakira Pikapika
"Sparkle Glitter"
8. 楽しい一日でした
Tanoshii Ichinichi Deshita
"It was an Enjoyable Day"
9. 提供パック
Teikyou Pakku
"Offer Pack"
10. 抜き足差し足忍び足、ソロリソロリ
Nuki Ashi Sashi Ashi Shinobi Ashi, Sorori Sorori
"Omitting the Pace Raising the Pace Stealing the Pace, Slowly Slowly"
11. Apfテーマ曲アレンジ
Apf Teemu Kyoku Arenji
"Piano Theme Tune Arrangement" [APF=Acoustic Pianoforte]
12. ホワホワ、ボケボケ歩き
HowaHowa BokeBoke Aruki
"Floating, Blurred Walking"

translation of HowaHowa and BokeBoke from google search

13. 重い悩みから愛情あふれるメロディ
Omoi Nayami Kara Aijou Afureru Merodi
"The Melody that Love Overflows from Massive Troubles"
14. 不安な一夜、暗い暗い夜、トボトボ歩き
Fuan na ichiya, Kurai Kurai Yoru, Tobotobo Aruki
"Anxiety All Night, Dark Dark Night, Trudging Walk"
15. 深刻な別れ
Shinkoku na Wakare
"A Serious Separation"
16. 妖魔の出現
Youma no Shutsugen
"Monster's Appearance"
17. 粋な行動
Iki na Koudou
"Refined Behaviour"
18. 悩みの三角関係
Nayami no Sankakukankei
"Troublesome Love Triangle"
19. 悲しい悲しいピアノ
Kanashii Kanashii Piano
"Sad Sad Piano"
20. 黒木ミオのテーマ
Kuroki Mio no Teema
"Kuroki Mio's Theme"
21. 闇の走り
Yami no Hashiri
"The First of Darkness"
22. 都会の雑踏
Tokai no Zattou
"Hustle and Bustle of the City"
23. 気だるい夜
Kedarui Yoru
"Languid Night"
24. 闇に蔓延る、チーマー達
Yami ni Habikoru, Chiimaa-tachi
"The Spread of Darkness, Chiimaa-tachi"
25. 暗い運命
Kurai Unmei
"Dark Fate"
26. 湧きあがる恐怖
Waki Agaru Kyoufu
"Fear Welling Up"
27. 淋しいサティー
Sabishii Satii
"Lonely Satii"
28. 妖魔の進軍
Youma no Shingun
"Advance Army of Monsters"
29. 重くのしかかる運命
Omoku no Shika Karu Unmei
"Fate Spurs on Only the Serious"
30. 希望への明日
Kibou e no Ashita
"To Desire of Tomorrow"
31. 悲劇のヒロイン
Higeki no Hiroin
"The Heroine's Tragedy"
32. 思い焦がれるエンディミオン様
Omoikogareru Endimion-sama
"To Pine for Endymion-sama"
33. プリンセスの平穏な日々
Princess no Heion na Hibi
"Princess's Peaceful Days"
34. エンディミオンの決意
Endymion no Ketsui
"Endymion's Decision"
35. プリンセスへの恋心
Princess e no Koigokoro
"Princess's Awakening of Love"
36. エンディミオン様のおなーり
Endymion-sama no Onaari
"Endymion-sama's Honour"
37. 揺れる乙女心
Yureru Otomegokoro
"To Sway a Girl's Mind"
38. 明日に夢を持って
Ashita ni Yume o Motte
"Having a Dream for Tomorrow"
39. セーラー戦士の目覚め
Sailor Senshi no Mezame
"Awakening of the Sailor Soldiers"
40. 勝利の凱旋
Shouri no Gaisen
"Triumphal Return of Victory"
41. ルナのサンポ
Luna no Sanpo
"Luna's Walk"
42. 友情
Yuujou
"Friendship"
43. プリンセスの淋しいハープ
Princess no Samishii Harp
"The Princess's Lonely Harp"
Track titles and translations provided by Sailor Dream, with the exception of tracks 7, 11, 12, 14, 26, 33, and 36 which are my own.
Disc 2: Special Radio Program DJ Moon
Full title: Ichiya Kagiri no Tokubetsu Bangumi RAJIO Tokuban "DJ Moon" (Translation: 'Special One Night Only Special Radio Program "DJ Moon" ')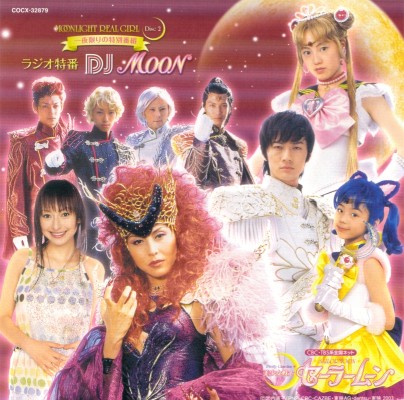 The songs on this special "DJ Moon" album are shorter than their CD version and include dialogue by the cast at the beginning and end of each track.
Track Title
Description
1. DJ 1
Drama Track
2. キラリ☆セーラードリーム!
Kirari☆Sailor Dream!
Sung by SAE
3. DJ 2
Drama Track
4. DJ 3
Drama Track
5. Over Rainbow ♥ Tour
Sung by Sawai Miyuu (Tsukino Usagi)
6. 肩越しに金星
Katagoshi ni Kinsei
Sung by Komatsu Ayaka (Aino Minako)
7. DJ 4
Drama Track
8. C'est la Vie ~私のなかの恋する部分
C'est la Vie ~ Watashi no Naka no Koisuru Bubun ("That's Life ~ The Loving Part Inside Me")
Sung by Komatsu Ayaka (Aino Minako)
9. DJ 5
Drama Track
CD EXTRA Bonus Video – live performance of "Friend" from the May 2, 2004 Special Live event
Disc 3: Minako Aino Original Album "I'll Be Here"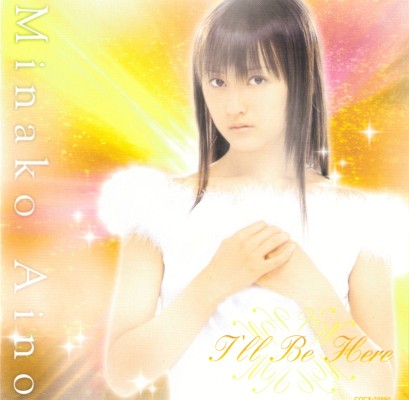 Maxi-single containing 4 previously released songs and 2 new songs: I'm Here and Sayonara ~ Sweet Days. The new songs were later included on the Complete Song Collection.
Track Title
Lyrics
1. Romance
Lyrics
2. I'm Here
Lyrics
3. C'est la Vie ~ 私のなかの恋する部分
C'est la Vie ~ Watashi no Naka no Koisuru Bubun ("That's Life ~ The Loving Part Inside Me")
Lyrics
4. 肩越しに金星
Katagoshi ni Kinsei ("Venus Over My Shoulder")
Lyrics
5. Kiss!

2

Bang!

2

Lyrics
6. さよなら~sweet days
Sayonara ~ Sweet Days
Lyrics